Lot's of Great Gift Ideas for your Valentine+Big Machine Vodka Tasting Fri+Heaven's Door Whiskey Sat
| | |
| --- | --- |
| Follow us on these sites: | |
Don't forget to get a gift
for your Valentine
this week!
This Thursday is Valentine's Day! Helping you pick something special for your sweetie is our specialty.
We have a lot of great wines, spirits and gifts that are sure to delight!
Weekend Tasting:
Friday February 15th, 4-7pm
This Friday's tasting will include:
This Friday afternoon, we will have the folks from Big Machine Vodka in the store to let you

sample

their delicious locally made Vodka!
Big Machine Platinum Filtered Premium Vodka, which is 25-times distilled and 3-times Platinum Filtered, to make it The Smoothest Tasting Vodka, Period! While many vodkas boast of 5-to-6 times distilled, distilling 25 times removes many more of the impurities which remain in most spirits. The result is a spirit that provides a clean and pure drinking experience with a cleaner feeling in your body "the morning after." Can you say "no hangover?" Adding to the 25 times distillation is our proprietary Platinum Filtration system – the only system of its kind in the world. Trickling the vodka through rare prescious Platinum beads creates a smoothness found nowhere else!
Stop in between
4 & 7 pm
and give this smooth spirit a try!
Weekend Tasting:
Saturday February 16th, 2:30-5:30pm
This Saturday's tasting will include: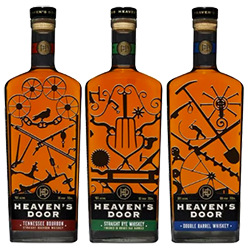 This Saturday afternoon, we will have the folks from Heaven's Door in the store to let you

sample

their line of Tennessee Bourbon and Whiskies!
Heaven's Door Whiskey is a collection of American whiskey co-created by Bob Dylan. Drawing on the rich tapestry of Bob Dylan's art and music, Heaven's Door Whiskey was born of his passion for the heritage of whiskey and American lore.
From The Tennessean May 1, 2018:
Legendary artist Bob Dylan is capitalizing on the Tennessee whiskey boom and investing in the city where he recorded four albums.
Dylan, in partnership with spirits entrepreneur and Angel's Envy Bourbon co-founder Marc Bushala, unveiled a line of craft American whiskeys this week under the name Heaven's Door. The New York Times was first to report details on the venture.
The company's distillery and "brand experience center" will open in a 140-year-old church at 410 Elm St. in Nashville's SoBro neighborhood in 2019, according to the Heaven's Door website.
"We both wanted to create a collection of American whiskeys that, in their own way, tell a story," Dylan said in a statement. "I've been traveling for decades, and I've been able to try some of the best spirits that the world of whiskey has to offer. This is great whiskey. I am happy to be partnering with Marc and our entire team as we bring Heaven's Door to the public."
Stop in between
2:30 & 5:30 pm
and have a sip!
Have a Libation delivered to you with your Delivery Dudes Food Order!
We have teamed with local favorite food delivery service Delivery Dudes to offer some of our inventory of wine, spirits, and beer, including Growlers and Crowlers to go with your delicious takeout dinner!
Ordering is just as easy as ordering food with a full menu of items available to have brought right to your door!
Red Dog Wine & Spirits
Hours: 9 a.m. - 9 p.m., Mon - Sat