SweetWater Thurs+Dogfish Head & Hochstadter's Slow & Low Rock and Rye Fri+Somrus Sat+Weekend Wines!
| | |
| --- | --- |
| Follow us on these sites: | |
Beer Thursday with SweetWater Brewing Co.!
This Thursday afternoon, we will be tasting new beers from Atlanta's SweetWater Brewing Co.!
SweetWater brewery has been makin' tasty brews in the heart of the south since 1997. What started as a pipe dream of two college buddies has turned into a dream job full of great adventures and lip-smackin' beers. What would you expect from a couple of boys with more of a hankering for beers than for books.
At SweetWater we like to say we're not here for a long time, we're here for a good time. It's not just something that we say though, it's how we live.
If you're up for a good time, come check us out at our brewery in Atlanta, every spring at our raging 420 festival, or wherever the fishing is good in your neck of the woods.
Remember, don't float the mainstream as we all find our path in life, and drink 'em if you got 'em.
We will taste:
Mango Kush Wheat (6pk btls)

420 G13 IPA (6pk btls)

Peach, Love & Happiness (6pk btls)

Guide Beer: A Lager (16oz cans)

Curtisimo Flanders Oud Bruin w/ Cherries (draft)
Stop in between
4 & 7 pm
and find your favorite!
Special Thursday Tasting with Broken

Shed

Vodka!
This Thursday afternoon, we will have Raymond Hermosa,

Broken

Shed

Vodka's Nashville Market manager, in the store to let you

sample

their Vodka!
Great vodka requires clean and pure ingredients — so there is no better place than New Zealand to craft our spirit. We distill our spirit from pure New Zealand whey (or, as we like to call it, milk honey), then blend it with spring water from the North and South island of New Zealand. This mountainous range is home to some of the purest water in the world. The result is a smooth and well-balanced vodka that remains true to the organic flavors of its source.
BROKEN

SHED

VODKA IS FREE OF GMOS, ADDITIVES, CHEMICALS, GLUTEN OR ANY ADDED SUGARS.
Stop in between
4 & 7 pm
and give this smooth Vodka a try!
Weekend Wine Tasting:
Friday April 12, 4-7pm
Saturday April 13, 2-6pm
This weekend, we are getting a head start & featuring Easter wines! Kevin & Sammy have chosen these specifically to go with your Easter lunch and/or dinner. Come on in, taste, and stock up for the holiday!
This weekend's tasting will include:
Elvio Tintero Lanhe Favorita
Aromas of stone fruits and white flowers. The gentle frizzante carries high acidity and notes of ripe pear and lime juice across your palate, finishing with a hint of salty sea spray and limestone minerality.
Boundry Breaks Bubbly Dry Riesling
For this Bubbly Dry, we start with a very dry Riesling, cool it down near freezing, then add carbon dioxide. Crisp, refreshing, and exploding with ripe flavors of peaches, apples, and apricots, it's a deliciously dry bubbly that will be sure to delight the palate!
Bright light ruby color. Perfumed, fruity aromas and flavors of candied strawberries, juicy apple, and peach blossom with a round, crisp, spritzy, fruity sweet light-to-medium body and a compelling, medium-length finish conveying accents of ripe red apples with fine, fruit, cottony tannins.
Underwood Riesling Radler
A wild idea for the wild at heart, enjoy our latest seasonal offering, the Riesling Radler. Crafted for the summertime adventures and summer wine lovers. The combination of crisp grapefruit, sweet Riesling, heady hops, and smooth malt make the Union Wine Underwood Riesling Radler the perfect summer refreshment.
Dogfish

Head

Tasting this Friday!
This Friday, in honor of Record Store Day weekend, we will have Kaitlin from
Dogfish
Head
in the store

to

let you sample their amazing beers. We will also have a DFH Vinyl Record Player we're raffling off so come put your name in the boot!
Ever since the summer of 1995, we have been brewing, cooking, selling and talking everything beer. It's our pastime, our passion, our life. 22 years later, we're just as dedicated to bringing off-centered goodness to off-centered people through our beer.
Dragons & Yum Yums (6pk btls)

American Beauty (6pk btls)

Seaquench (6pk cans)

SuperEIGHT (6pk cans)
Stop in between

4 & 7 pm

, find your favorite!
Hochstadter's
Slow

and

Low

!
This Friday, we will have the folks from Hochstadter's in the store to let you sample their

Slow

&

Low,

Rock and Rye Whiskey.
THE ORIGINAL AMERICAN PANACEA, ROCK AND RYE HAS BEEN SERVED "STRAIGHT UP" IN SALOONS AND PHARMACIES SINCE THE 1800'S. 100% RAW LOCAL HONEY FROM PA. AIR-DRIED NAVEL ORANGES FROM FL. ANGOSTURA-STYLE COCKTAIL BITTERS AND A PINCH OF ROCK CANDY.
Come on in and have a taste from 4-7p!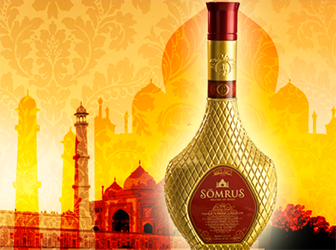 Saturday Tasting with
Somrus

Indian Cream Liqueur!
This Saturday, we will have the folks from

Somrus

in the store to let you taste their delicious Original Indian Cream Liqueur!
SomruS

, meaning "Nectar of Gods," has references dating to 2600 BC as a divine beverage for the Gods and is purported to have had the power to prevent the human body from degeneration. Although SomPriya has not cracked the code of immortality, the company's modern interpretation is created using an intricate blend of eastern spices, nuts and cream to produce an authentic liquescent taste of the Indian subcontinent. Using proprietary techniques, SomPriya artfully blends pure dairy cream and hand-crafted Caribbean rum with the luscious flavors of cardamom, saffron, almonds, pistachios and rose to create the 21st century 'incarnation' of

SomruS

– The Original Indian Cream Liqueur. Meant to be enjoyed on its own, mixed in a cocktail, baked in a sweet dessert or added to a cup of chai,

SomruS

reinvents the taste, tranquility and euphoria of drinking the mythical elixir of gods. A gold coated and UV protected, custom-made glass bottle draws inspiration from an ancient Indian decanter creating appealing nostalgia and setting it apart from anything else on the shelf.
Come on in and give it a try! They will be sampling from
2-6p
.
Wine of the Week!
As part of a new series we are doing on our Instagram page, Kevin & Sammy are featuring a different wine each week to showcase & keep in our wine dispenser behind the tasting bar so you can taste it! Not only that, but you get 10% off that wine all week long!
Terresses du Larzac "The Forgotten Vines"
(Languedoc,France)
This wine is a blend of Grenache Noir, Syrah, and Carignan. The complexity, vibrancy, and pure pleasure of this gorgeous blend will transport you instantly to a wild, garrigue-strewn hillside deep in the south of France.
Red Dog Price 21.99
Experience a new category of drink – Drinking Botanicals. Fresh citrus infused with CBD and bottled into adult drinking experiences. Bringing you flavors that snap you out of the mundane and into the present moment. Celebrate a new ritual.
Drinking Botanicals are combinations of fresh-pressed juices, herbs, and CBD designed to relax, restore, and revitalize mind and body. All of our ingredients come from carefully-vetted California suppliers located within a 250 mile radius of us, with the exception of our certified organic maple that we source directly from a farm in Vermont, and our certified organic raw apple cider vinegar and certified organic raw blue agave.
While you are busy appreciating the complexity of our flavors, you may start to notice that you feel a little lighter. Just a little less stressed.
Drinking MONK feels like kicking your socks off after a crazy busy day.
Try one today! 20mg CBD per bottle. 9.99/each
Have a Libation delivered to you with your Delivery Dudes Food Order!
We have teamed with local favorite food delivery service Delivery Dudes to offer some of our inventory of wine, spirits, and beer, including Growlers and Crowlers to go with your delicious takeout dinner!
Ordering is just as easy as ordering food with a full menu of items available to have brought right to your door!
Red Dog Wine & Spirits
Hours: 9 a.m. - 9 p.m., Mon - Sat