Lechosa's Locally Made Hot Sauce Tasting Thurs+ Broken Shed Vodka Fri+ Weekend Wines+ Old Elk Bourbon Tasting Saturday!
| | |
| --- | --- |
| Follow us on these sites: | |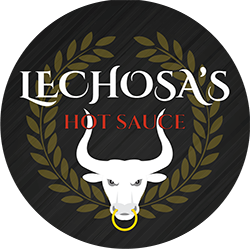 Lechosa's Hot Sauce
Tasting Bar Takeover!
This Thursday for our Free In-Store Tasting, we will have owner and founder David

Lechosa

of

Lechosa

's Hot Sauce at the bar serving up samples of his locally crafted hot sauces!
I have been making hot sauces for a long time and I'm excited that this grew into such a fun business! I'm a bigger chili head than my wife, but she is better with numbers & details so I'm glad we get to work together as a team.
It all started with making homemade hot sauces for friends and family and then it grew into a hot sauce passion! After trying hundreds of hot sauces that are either too hot that you can't taste your food or too weak where you can't feel the heat at all, or those that have a super vinegary flavor or are just straight up weird! With so many options to choose from, why would you want to try our sauces? Well, the answer is simple. They are delicious sauces that are simple, tasty, and have an amazing balance of heat and flavor!
One of our customers said to me once, "Your sauce is so good that you just have to keep eating it, and keep eating it, even though your mouth is on fire! Sometimes I stop myself, and then I'm like, "OK lets have some more." So I'm hoping that everyone can try our sauces and say they found the best balance of heat and flavor!
Peach Habanero

"Oh Boy" Jalapeno

The Ghost

Carolina Madness
Stop in between
4:30pm & 7:30pm
and find your favorite!
Friday Tasting with

Broken

Shed

Vodka!
This Friday afternoon, we will have

Broken

Shed

Vodka in the store to let you

sample

their Vodka!
Great vodka requires clean and pure ingredients — so there is no better place than New Zealand to craft our spirit. We distill our spirit from pure New Zealand whey (or, as we like to call it, milk honey), then blend it with spring water from the North and South island of New Zealand. This mountainous range is home to some of the purest water in the world. The result is a smooth and well-balanced vodka that remains true to the organic flavors of its source.
BROKEN

SHED

VODKA IS FREE OF GMOS, ADDITIVES, CHEMICALS, GLUTEN OR ANY ADDED SUGARS.
Stop in between
4 & 7 pm
and give this smooth Vodka a try!
Weekend Wine Tasting:
Friday July 12th, 4-7pm
Saturday July 13th, 2-6pm
This weekend's tasting will include:
Bodegas Mustiguillo Mestizaje Blanco
Fresh peach, pineapple and tangerine on the highly perfumed, floral-tinged nose. Sappy and seamless texture, offering juicy tropical and citrus fruit flavors that are sharpened by a spicy flourish. Shows very good energy and spicy lift on a long, penetrating finish that echoes the floral note. Merseguera, Viognier & Malvasia.
Silver Totem Cabernet Sauvignon
(Horse Heaven Hills, Washington)
This wine is
mostly Cabernet Sauvignon with some Malbec and Syrah. It is a deep ruby red with aromas of cherry, cedar and violet. On the palate are flavors of currant and blackberry.
Gooseneck Vineyards Grenache Rose
Gooseneck Vineyards' Dry Rosé displays an elegant sandy pink color. The nose is of fresh cut roses, as the mouth-feel rushes in with flavors of delicate blackberries and boysenberries. Finishes with clean acidity and spicy notes. This perfectly balanced Rosé is an ideal marriage with appetizers, delicate pasta courses, baked or roasted fish, steamers and raw shellfish: littlenecks, oysters, and shrimp. More so recommended for those moments shared on a picnic blanket, patio, or a beach chair.
---
Old

Elk

Tasting on Saturday!
This Saturday , we will have the folks from

Old

Elk

to sample ya'll on their bourbon.

Old

Elk

Distillery is currently a production facility, with a vision to open a larger distillery in Colorado. The

Old

Elk

Blended Straight Bourbon Whiskey recipe was created by the

Old

Elk

Distillery team and Greg Metze from MGP!
At

Old

Elk

Distillery, we craft a remarkably smooth and innovative spirit that transcends tradition.

Old

Elk

Blended Straight Bourbon Whiskey uses four times more malted barley than conventional recipes and a Slow Cut™ proofing process. This creates a rich, smooth flavor, in harmony with caramel cues evoked by charred barrels, and spicy notes of rye.
The

Old

Elk

recipe includes three quality ingredients – malted barley, rye, and corn. By investing in our bourbon and using four times more malted barley than traditional recipes, the bourbon generates sweet, light components. The malted barley, combined with spicy essence of clove from the rye, and the traditional rich bourbon character from the corn, creates the overall robust taste profile.
Aroma: Sweet vanilla and caramel, clove spice, slight maple, and nutty almond
Taste: Maple syrup, almond, raw bran, chocolate, deep wood, and coconut
Mouthfeel: Smooth and coating with a lasting flavor
Stop in between
2 & 6 pm
and give it a whirl!
Have a Libation delivered to you with your Delivery Dudes Food Order!
We have teamed with local favorite food delivery service Delivery Dudes to offer some of our inventory of wine, spirits, and beer, including Growlers and Crowlers to go with your delicious takeout dinner!
Ordering is just as easy as ordering food with a full menu of items available to have brought right to your door!
Red Dog Wine & Spirits
Hours: 9 a.m. - 9 p.m., Mon - Sat
| | |
| --- | --- |
| Share this with your friends: | |